Group 13 'Devil's Own' was a land division of the Group Settlement assisted migration scheme which operated from the early 1920's, providing a labour force to open up large plots of agricultural land in the Margaret River region.
Within the Group 13 site, Harmans Estate, we craft our fine expression of South America's famous spirit. Made from hand selected estate grown grapes, Margaret River Pisco is distilled in small batches to produce an exotic, pure and beautifully balanced grape spirit.
Margaret River Pisco is as rugged and gallant as the 'Devil's Own', encapsulating the spirit of the Group 13 settlers and their commitment to bringing about new life from the ashes of what was.
​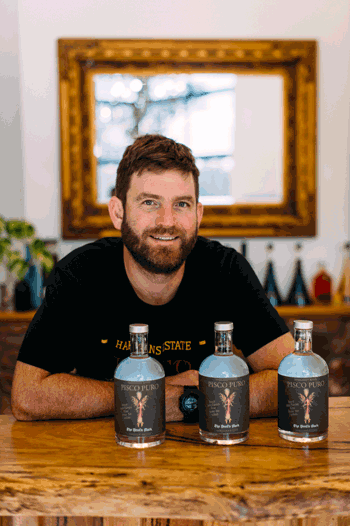 The lure of Margaret River was always present for Greg. As a young poor student Greg spent many of his weekends and holidays enjoying the sun, surf and wine of the region. Drawn by the even bigger lure of money Greg embarked upon a Business Law degree, followed by a Master of Accounting degree. The initial plan was – get rich, buy a winery and live the dream – easy? What Greg did not count on was Tax and Financial Statements were just not exciting, so Greg made a life changing decision to test the wine industry and see where it would take him.
​
In 2004 Greg begun his winemaking apprenticeship at Houghton's Winery, alongside studying Wine Science at Charles Sturt University. Now a partner in the cooperative winery of Harmans Estate, Greg is able to tell his own story through careful vineyard selection and innovative winemaking techniques. Greg oversees the winemaking process for the winery and is heavily involved in the qualitative aspects of sensory development in every batch of wine made at the facility.
​
Greg's brand "GG" reflects the very special parcels of fruit each year that Greg rests his name on. Share the joy of wine with Greg at www.harmans.com.au.